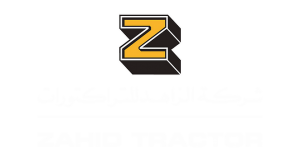 Established in 1967 to distribute Cat machinery and equipment across the Kingdom of Saudi Arabia, Zahid Tractor's Construction Machinery Division provides fully integrated construction machinery products and services to both private and public sector customers.
Offering everything from new products, parts, and services to rental and used equipment, Zahid Tractor's unwavering customer-centric approach has been the driving force behind the company's significant growth since its inception.
OUR SOLUTIONS
A wide range of programs are available to our customers. From our value commitment and our equipment management solutions to financing and training; Zahid Tractor is committed to helping our customers grow their businesses while achieving the as much support as possible 24 hours a day, seven days a week.
ONLINE TOOLS
As a Zahid Tractor customer, a variety of helpful online tools are available to you at the click of a button. For usernames and passwords, please contact your Account Manager.
A Customer's Cat Skid Steer Loader Story
A Zahid Tractor customer tells us why he chose the Skid Steer Loader for his business / farming needs.
RECENT NEWS
Custom Track Service (CTS)

Custom Track Service (CTS) is one of our comprehensive equipment programs that gives customers an easier way to make critical maintenance decisions and is one of the most advanced diagnostic tools with which wear rates can be detected and predicted.

The new generation of CAT Advansys drilling tools

Meet the new generation of CAT Advansys drilling tools. It is easy to disassemble and install, safe, simple, and effective. It also reduces downtime, and it helps improve the performance of loaders and excavators, and increases their productivity by up to 15%.

Field Maintenance Services

At Zahid Tractor, we provide field maintenance services that enable our customers to inspect and repair equipment via our outstanding maintenance team, which is ready to serve our customers all over the Kingdom.
FULFILLING CAREERS
Zahid Tractor is always on the look out for likeminded people who share our values. Find out more about all the available career opportunities and submit your CV. Given the large volume of applications that we receive our Human Resources team will contact you should your qualifications match one of the available opportunities.
Always Within Reach
Zahid Tractor branches stretch across the Kingdom of Saudi Arabia to ensure that we are always within reach of each of our customers.