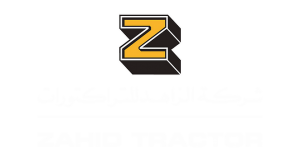 Established in 1967 to distribute Cat machinery and equipment across the Kingdom of Saudi Arabia; Zahid Tractor's Construction Machinery Division (Zahid Tractor) provides fully integrated construction machinery products and services to private and public sector customers.
From new products and parts and services to rental and used equipment, Zahid Tractor's second-to-none customer centric approach has been the driving force behind the company's substantial growth since its establishment.
OUR SOLUTIONS
A wide range of programs are available to our customers. From our value commitment and our equipment management solutions to financing and training; Zahid Tractor is committed to helping our customers grow their businesses while achieving the as much support as possible 24 hours a day, seven days a week.
ONLINE TOOLS
As a Zahid Tractor customer, a variety of helpful online tools are available to you at the click of a button. For usernames and passwords, please contact your Account Manager.
A Customer's Cat Skid Steer Loader Story
A Zahid Tractor customer tells us why he chose the Skid Steer Loader for his business / farming needs.
RECENT NEWS
"Contamination Control" Program

At Zahid Tractor Company, we are keen to implement the "Contamination Control" program to avoid malfunctions that may affect spare parts as a result of impurities or contamination in equipment systems, this program is applied to all Caterpillar factories and agents.

Dyno Facilities, Where we Stimulate Real World Application Conditions

After rebuilds or major repairs, engines are tested in our Dyno facilities where we simulate their real world application conditions. It all happens under our customers eyes to guarantee quality.

We Ensure the Quality of the Repair

At Zahid Tractor Company, we are keen to carry out accurate tests using the latest technologies such as simulators, and all essential parts of the equipment are inspected to ensure the quality of the repair.
FULFILLING CAREERS
Zahid Tractor is always on the look out for likeminded people who share our values. Find out more about all the available career opportunities and submit your CV. Given the large volume of applications that we receive our Human Resources team will contact you should your qualifications match one of the available opportunities.
Always Within Reach
Zahid Tractor branches stretch across the Kingdom of Saudi Arabia to ensure that we are always within reach of each of our customers.